Contact info: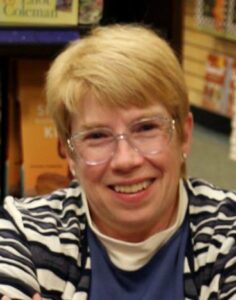 Lives in: Winona, MN
Website: http://kathrynsullivan.com
Email: [email protected]
Phone: 507-452-2643
Author of: Children's Fiction, Picture Books, and Young Adult Fiction
Age Group: 5-20
Books:
The Crystal Throne, Zumaya Publications, July 2019
Agents, Adepts & Apprentices, Zumaya Publications, September 2017
Michael and the Elf, Fox Pointe Publishing, October 2022
Talking to Trees, Zumaya Publications, September 2022
Book Awards:
The Crystal Throne, 2002 Eppie Award Best Fantasy
Agents & Adepts, 2003 Dream Realm Award Best Anthology, 2004 Eppie Award Finalist
Talking to Trees, Finalist 2006 Dream Realm Award
Highlights/Bio:
Kathryn Sullivan writes young adult science fiction and fantasy. Any place and any object is at risk of appearing in her stories – the river bluffs surrounding Winona, MN, where she lives, can become the windswept cliffs of an alien planet or the deep mysterious woods of a fantasy tale. She is owned by a large cockatoo, who graciously allows her to write about other animals, as well as birdlike aliens.
Presentation Title & Description:
CREATING SCIENCE FICTION AND FANTASY CHARACTERS
Getting Beyond "What does it look like?"
(also called HUMAN, ALIEN OR MONSTER)
Using the What-Where-Why method, students will design characters for fantasy or science fiction stories (their choice) and explore (in groups or individually) how creating a character can develop the beginnings of a story. In the What section, young authors will work together to select adjectives for character description using the five senses and then develop their own characters to share with the group.
http://kathrynsullivan.com/school-visits
*Also available for virtual presentations via Skype or Zoom*
Fees:
Please contact the author for current rates