Contact info: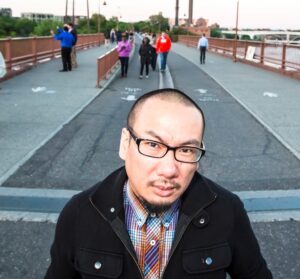 Lives in: Minneapolis, MN
Email: [email protected]
Website: www.baophi.com
Author of: Picture Books and Adult Poetry
Age Group: Kids and Adults
Books:
Picture Books:
Hello, Mandarin Duck! Capstone Publishing, Forthcoming: 2/1/2021
My Footprints. Capstone Publishing, 2019
A Different Pond. Capstone Publishing, 2017
Poetry Collections:
Collected Poems. Song I Sing. Coffee House Press, 2011
Collected Poems. Thousand Star Hotel. Coffee House Press, 2017
For a more extensive list of publications, please visit http://baophi.com/about/links/
Book Awards:
Caldecott Honor, Ezra Jack Keats New Writer and New Illustrator Honors, The Asian/Pacific American Award for Literature, Booklist Editor's Choice, a Hornbook Fanfare book.
A Different Pond was named among the best books of the year by Kirkus, Washington Post, Huffington Post, The Boston Globe, School Library Journal, Kirkus Reviews, Publishers Weekly, and many others. A Different Pond also received the Charlotte Zolotow Award for Excellence in picture book writing.
My Footprints was named a Best Fiction Book for Young Readers by the Chicago Public Library, and Betsy Bird's SLJ Best Picture Books of 2019 list.
Highlights/Bio:
Bao Phi is a poet and children's book author, a single co-parent father, an arts administrator, and a Vietnamese American Minnesotan. For more about the author, visit http://baophi.com/about/
Presentations:
Varies, please contact the author for more details
*Also available for virtual presentations via Skype or Zoom
Fees:
Please contact the author for fee range