Contact Info: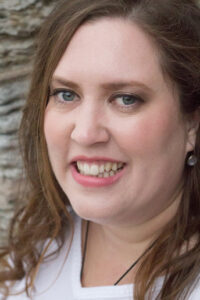 Lives in: St. Paul, MN
Website: sarahahiers.com
Email: [email protected]
Author of:
Children's Fiction, Young Adult Fiction, and Adult Fiction
Age Group: Middle Grade to Adult
Books:
THIEF'S CUNNING (Book 2 of ASSASSIN'S HEART) Harper Teen, 2016
ASSASSIN'S HEART (Harper Teen, 2016)
Info about short stories can be found here: https://www.sarahahiers.com/books.html
Book Awards:
MN Book Award Finalist, 2016, 2017
Sarah Ahiers has an MFA in Writing for Children and Young Adults from Hamline University. Her thesis was a study of monsters and monstrous characters in middle grade and young adult fantasy fiction. She writes young adult and middle grade novels and occasionally dabbles in picture books. Fantasy is her favorite genre, though she sometimes can be found playing around with Horror and other things that go bump in the night. Sarah lives in Minnesota with her dogs and a house full of critters. She has a collection of steampunk hats and when she's not writing she fills her time with good games, good food, good friends, and good family.
Presentation Title & Description:
How to Become an Author, or Yes! You, too, Can Write!
*Also available for virtual presentations via Skype or Zoom*
Skype, $100 per hour, Local, one hour session: $300 Local, full day (up to four, one hour, sessions): $1,000 Long-distance: $1,500 plus travel expenses