Contact info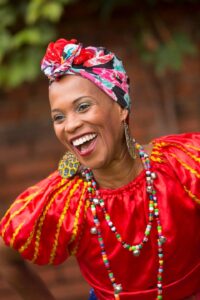 Lives in: Lakeville, MN
Email: [email protected]
Website: www.afoutayidmaco.com
Author of: Children's Fiction, Fiction, Nonfiction, and Picture Books
Age Group: All Ages
Books:
The Mermaid and The Whale, 2020
This is a story inspired by the Haitian folk song of "Lasirèn ak Labalèn"  a song that has been passed down from generation to generation through traditional dance, music and oral storytelling in Haiti
Highlights/Bio:
Djenane Saint Juste: A native of Haiti, is the artistic director of Afoutayi Haitian Dance, Music and Arts Company. She is a professional choreographer, dancer, storyteller, and writer specializing in Haitian traditional dance and folklore. She received a BA in Physical Education in Cuba, a MAEd at the University of St Thomas in Minnesota and a licensee in ELL. Djenane has also been trained in ballet, hip hop, modern, jazz and ballroom dance at the Institut de Danse JAKA, Institut de Danse Vivianne Gauthier, and Artcho Dance Company in Haiti. She is the creator and instigator of the Annual Haitian Cultural Festival, and has brought exciting new themes and activities to engage participants in Haitian culture since launching the first Haitian Festival in 2009. Djenane has dedicated herself to the research, development and promotion of traditional Haitian dance, song and storytelling. Djenane's work towards the preservation of Haitian culture has been documented in works such as "Making Caribbean Dance" by Susanna Sloat, as well as "Lavil: Life, Love, and Death in Port-au-Prince (Voice of Witness)" by Peter Orner, Evan Lyon, and Edwidge Danticat. In 2018 Djenane received the Award of Excellence from the Haitian Community of Minnesota and the NAACP for her outstanding contributions and commitment to advancing the culture and causes of communities of color in Minnesota. Djenane's latest work is her first children's book "The Mermaid and The Whale " launched in august 2020.
Presentations:
I absolutely love teaching and performing at schools (K-12), universities, rec centers, and public and private organizations. The reason is simple: I am passionate about what I do and I make sure that every class or performance feels unique!
*Also available for virtual presentations/readings via Skype or Zoom*
Fees:
$150 if I am alone / $400 when I have accompanists meaning musicians and the characters in the book.