Contact Information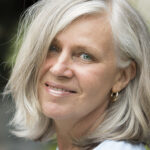 E-mail: [email protected]
Website: http://www.marieolofsdotter.com
Book Category: Picture Books
Age Group: 5 and up
Books
The Adventures of Meya (and Mo). Created with Paulino Brener, uTales, 2011.
A Picture Book of Cesar Chavez. Holiday House, 2010.
Sofia and the Heartmender. Holy Cow! Press, July 2007. (republication)
A Bridge for Grandma. Beaver's Pond Press, October 2006.
My Mind Can See in the Night. COMPAS, 2005.
Northern Lights. COMPAS, 2001.
Taking Charge of My Mind and Body. Free Spirit Publishing, 1997.
Oh Light Sleeper, Wild Dreamer. COMPAS, 1995.
Frej the Fearless (The Secret World of Frej). Free Spirit Publishing, 1995.
Highlights
I paint, write poetry and create picture books. I've been drawing and making up stories for longer than I can remember. My own story began in Sweden where I was born and raised. In 1981, I took a leave of absence from my fine arts studies in Stockholm to go to clown school in California. Shortly thereafter, I landed in Minneapolis where I've lived ever since.
Through my work as a teaching artist, I inspire creative action in others as well. When I'm not working, you might find me strolling along the banks of the Mississippi River, listening for the deep heart of nature, the pulse that inspires most everything I do.
Awards
Minnesota State Arts Board Artist Initiative Grant 2016
Next Step Fund Grant 2014, MRAC/The McKnight Foundation
Minnesota State Arts Board Artist Initiative Grant 2013
Loft Mentor Award in Poetry, 2007
Jerome Foundation Travel and Study Grant, 2000
Minnesota State Arts Board Career Opportunity Grant, 2000
Minnesota Book Award 1998, Best Help and Guidance
Sumasil Foundation, Career Development Grant 1996
Mid America Publishers Award 1994, Best Children's Book
Midwest Book Achievement Award 1994, Best Children's Book
Skipping Stones Honor Award 1994, Exceptional Multicultural and Nature Book
The Benjamin Franklin Silver Award 1994, Children's Picture Book
Honored as a Parent Council Selection, Parent Council Ltd. 1993
Presentations
In my author & illustrator presentations I share my works from inception to publication. I read from my books and demonstrate the process of creating an illustration. Sometimes I bring a life like puppet to accompany a reading of my book Sofia and the Heartmender. My presentations can be tailor made to fit any age group 5 and up.
As a teaching artist, I set the stage for my students to express their unique literary and visual vision. In the poetry workshops students learn how to use valuable writing tools, while being introduced to poets from around the world. I teach fairy tale writing classes and offer a variety of visual arts classes such as book making, illustration, and mask making.
Fees
Please contact.
Save