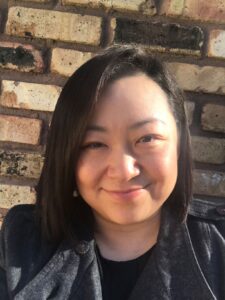 Contact Info:
Lives in: St. Paul, MN
Website: https://www.vtbidania.com/
Email: [email protected]
Author of:
Children's Fiction
Age Group: 6-8 (chapter books and picture books) & 8-12 (middle grade novels)
Books:
ASTRID AND APOLLO chapter book series:
https://www.vtbidania.com/books 
Book Awards:
SPPL READ BRAVE 2021 Chapter Book
V.T. Bidania is the author of ASTRID AND APOLLO (Capstone), the first children's book series to star Hmong American characters. She was born in Laos and grew up in St. Paul, Minnesota, right where Astrid and Apollo live! She has an MFA in creative writing from The New School, won a Loft Mirrors & Windows Fellowship, and is the 2021 McKnight Writing Fellow (Children's Literature). ASTRID AND APOLLO is on the Chicago Public Library's List of Best Fiction for Younger Readers of 2020 and The Starry Campout, the first book in the series, is an Amazon Editors Pick (Best Books for Ages 6-8) and was selected as the chapter book title for St. Paul Public Library's 2021 Read Brave Program.
Presentation Title & Description:
My presentations cover the writing process, my background as an author, the importance of diverse representation in children's books, some Hmong language, an interactive activity, and a question-and-answer session. I also give writing workshops and present at library events, book festivals, book clubs, writer/educator conferences, and more.
*Also available for virtual presentations via Skype or Zoom*
Please contact the author for specific rates and availability.