Contact Information: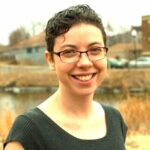 E-mail: [email protected]
Website: www.mollybethgriffin.com
Author of: Picture books, Young Adult fiction, Beginning Readers, Poetry Chapbooks
Age Group: primarily children ages 3-10, I also teaching writing to adults
Books:
Picture Books:
Loon Baby. Houghton Mifflin Harcourt, 2011
Rhoda's Rock Hunt. Minnesota Historical Society Press, 2014
Ten Beautiful Things. Charlesbridge, January 2021
The Big Leaf Leap. Minnesota Historical Society Press, fall 2021
Young Adult:
Silhouette of a Sparrow. Milkweed Editions, 2012
Beginning Readers:
School Sidekicks series (8 titles). Capstone/Picture Window Books, 2019
Poetry chapbooks:
Under Our Feet. Finishing Line Press, 2018
All the Hollow Places. Finishing Line Press, 2018
Reviews at: http://mollybethgriffin.com/books/
Highlights/Bio:
Molly Beth Griffin is a graduate of Hamline University's MFA Program in Writing for Children and Young Adults. She is the author of two picture books, a young adult novel, two poetry chapbooks, eight beginning readers, and two more picture books are forthcoming in 2021. Though her writing reaches across all age groups and genres, it all demonstrates her passion for exploring young people's changing relationship to the natural world and to the world of books. Molly teaches writing for children at the Loft, critiques manuscripts, and hosts a monthly Picture Book Salon. She lives in South Minneapolis with her partner and their two children. For more information please see www.mollybethgriffin.com.
Book Awards:
Silhouette of a Sparrow:
Finalist for the Minnesota Book Award, the Lambda Literary Award, and ForeWord's Book of the Year, featured on ALA's Rainbow List and on the Amelia Bloomer List of Feminist Literature.
Rhoda's Rock Hunt:
Won a Northeast Minnesota Book Award and a Jeanette Fair Book Award, and was a Star of the North nominee.
Molly was the recipient of the 2014 McKnight Artist Fellowship in Children's Literature as well as two MSAB Artist Initiative Grants.
Presentation Title and Description:
I love to do storytimes for preschool and early elementary age kids. For school age children (generally K-2nd) I give talks about nature writing, sensory language, and the picture book process. More information here: http://mollybethgriffin.com/school-visits/
Fees:
Full day fee is generally around $800 plus expenses (maximum 4 presentations, under 90 students each). Partial day $300-$500 depending on number and length of presentations. More information here: http://mollybethgriffin.com/school-visits/