Contact Info: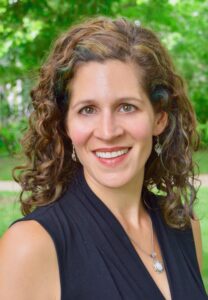 Lives in: Minneapolis, MN
Website: www.erinsoderberg.com
Email: [email protected]
Author of: Children's Fiction
Age Group: 7-13
Books:
The Quirks series, Puppy Pirates series, Great Peach Experiment series, Daring Dreamers Club series, Moon Shadow, etc.
Please see Erin's website for a full listing of her books: https://bookshop.org/lists/erin-s-books
Book Awards:
Great Peach Experiment – Junior Library Guild Gold Standard Selection
The Quirks: Welcome to Normal – Nerdy Book Club "Nerdies" finalist
Highlights/Bio:
ERIN SODERBERG DOWNING has written more than fifty books for kids, tweens, and young adults. Some of her most popular titles include two fun series – Puppy Pirates and The Quirks – and the magical middle-grade novel Moon Shadow. The first book in her next middle grade series — The Great Peach Experiment: When Life Gives You Lemons, Make Peach Pie (a Junior Library Guild Gold Selection) — will roll into stores on April 6, 2021. Before becoming an author, Erin was a children's book editor, a cookie inventor, and also worked for Nickelodeon. She lives in Minneapolis with her husband, three hilarious kids, a cuddly goldendoodle named Wally (the star of Puppy Pirates!), and Nutmeg the mischievous mini aussiedoodle puppy. More information can be found at www.erinsoderberg.com.
Presentation Title & Description:
Customized to group requests/size, more details found here: https://www.erinsoderberg.com/school-visits.html 
*Also available for virtual presentations via Skype or Zoom
Fees:
$1,000/day for in-person; more details found here – https://www.erinsoderberg.com/school-visits.html