Contact Information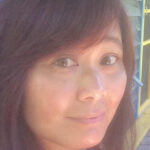 E-mail: [email protected]
Website: www.cristinaoxtra.com Fairytale Hollow LLC
Book Category:
Children's fiction
Children's nonfiction
Graphic novels
Age Group: Elementary
Books
Stephen Hawking: Get to Know the Man Behind the Theory
(biography, Capstone, 2019)
Stan Lee: Get to Know the Comics Creator (biography, Capstone,
2019)
Tae Kwon Do Test (chapter book, Capstone, 2020, illustrated by Amanda Erb)
Tara & the Towering Wave: An Indian Ocean Tsunami Survival Story (historical fiction, Capstone, 2020, illustrated by Francesca Ficorilli)
Red Riding Hood (graphic novel, Capstone, 2020, illustrated
by Miguel Diaz Rivas)
Keep Dancing (chapter book, Capstone, 2021)
Highlights
I'm a Filipino American author. I earned an MFA in creative writing for children and young adults at Hamline University and a BA in journalism. I write fiction and nonfiction, from picture books and chapter books to middle grade and graphic novels. I'm the recipient of the 2019-2020 Mirrors & Windows Fellowship at the Loft Literary Center in Minneapolis.
I'm a U.S. military veteran and former journalist and public relations/communications specialist. I'm now a full-time educator overseeing a college readiness program that supports underrepresented middle school and high school students. In addition, I'm the founder of a scholarship that helps minority high school students in need obtain a college education. I have recently signed up to teach youth writing classes at The Loft.
I'm passionate about sharing with others the beauty, power, and magic of the written word. Besides writing, I enjoy reading, sharing my Filipino culture and immigrant experience, cooking, baking, Tae Kwon Do, learning languages and about other cultures, comic books and comic cons, and exploring the supernatural and paranormal.
Presentations
I have PowerPoint presentations on the writing process (The Write Path) and importance of reading (Why Read). I can also provide an activity related to a particular book. If supplies are needed for participants to take part in an activity, the library should provide the supplies.
Fees
Fees vary. Cristina can work with librarians, educators, and event organizers to help meet their needs