Contact Info: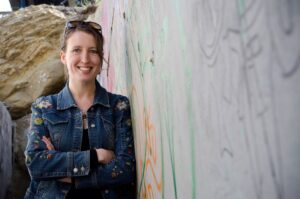 Lives in: Minneapolis, MN
Email: [email protected]
Website: http://kellybarnhill.com
Phone: 6126444151
Author of: Children's Fiction, Young Adult Fiction, and Adult Fiction
Age Group: Kids, teens and grown-ups
Books:
The Girl Who Drank the Moon (Algonquin, 2016)
The Witch's Boy (Algonquin, 2014)
Dreadful Young Ladies (Algonquin, 2018)
Iron Hearted Violet, (Little, Brown, 2012)
The Mostly True Story of Jack, (Little, Brown, 2011)
Reviews: 
Starred review, publisher's weekly: https://www.publishersweekly.com/978-1-61620-351-1
Starred review kirkus: https://www.kirkusreviews.com/book-reviews/kelly-barnhill/the-witchs-boy-barnhill/
New York times: https://www.nytimes.com/2014/09/03/books/the-witchs-boy-by-kelly-barnhill.html
Another NYT: https://www.nytimes.com/2016/10/09/books/review/girl-who-drank-the-moon-kelly-barnhill.html?searchResultPosition=1
Book Awards:
Newbery Medal, World Fantasy Award, Texas Library Association Bluebonnet, Charlotte Huck Honor, Parents Choice Gold Award, Minnesota Book Award finalist, Nebula finalist, PEN/USA finalist, NYT Bestseller
Kelly Barnhill lives in Minnesota with her husband and three children. She is the author of four novels, most recently The Girl Who Drank the Moon, winner of the 2017 John Newbery Medal for the year's most distinguished contribution to American literature for children. She is also the winner of a World Fantasy Award and a Parents' Choice Gold Award. She has been a finalist for the Minnesota Book Award, the NCTE Charlotte Huck Award, the SFWA Andre Norton Award, and the PEN/USA literary prize.
Presentation Title & Description:
My presentations are adapted to reflect the needs and quirks of each school and library community that I visit. I place a high value on authentic connection, creative exploration and the life of the mind. Presentations range from auditorium speeches to writers workshops to book club discussions to open-ended Q&A. More specifics can be found on my website.
*Also available for presentations/visits via Zoom or Skype
$5,000 for a full day in person, $3,000 for half day in-person, $750 for a 50-minute Skype presentation