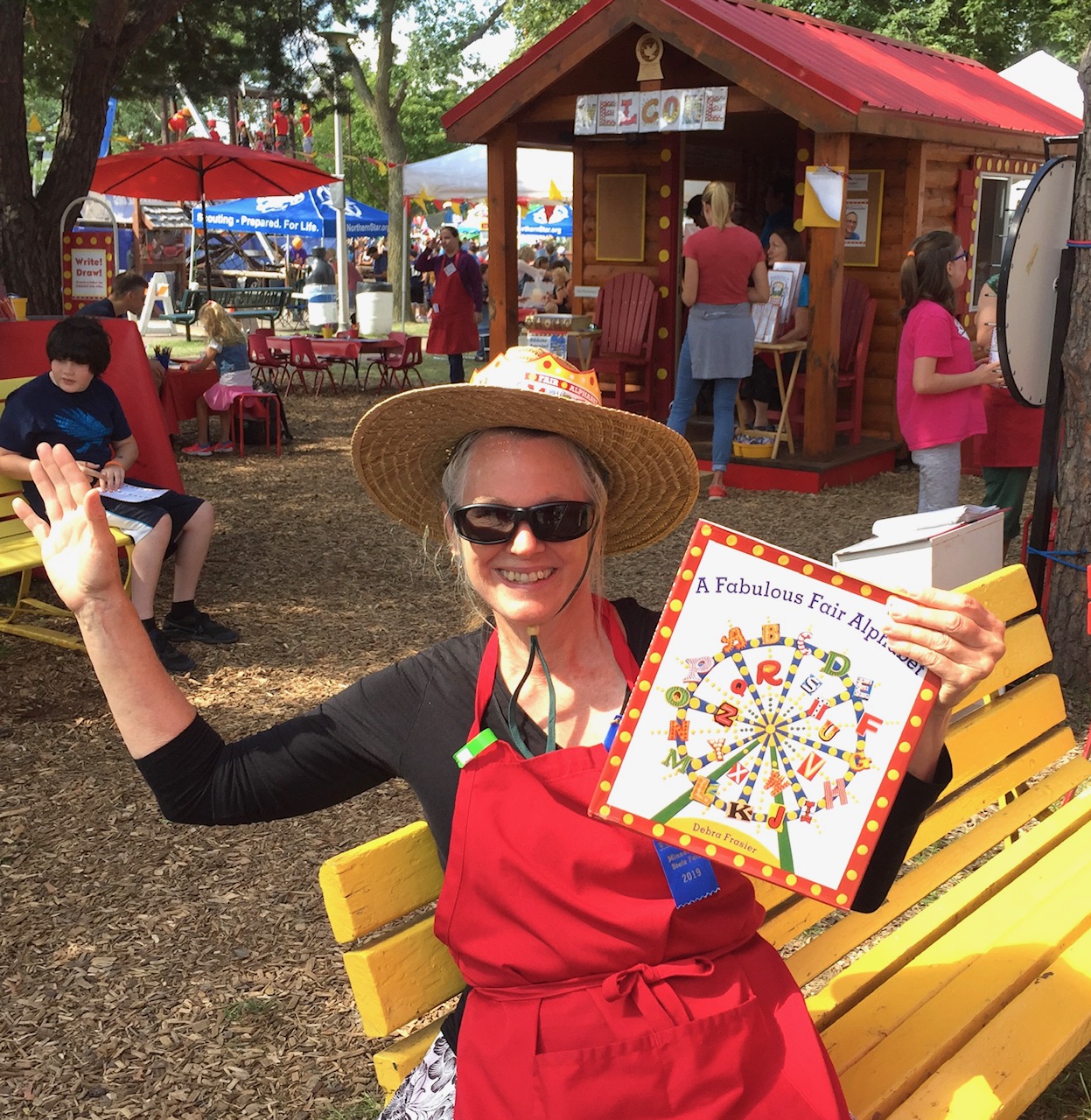 Contact Information
E-mail: [email protected]
Website: http://www.debrafrasier.com
Book Category: Picture Books
Books
Written
SPIKE, Ugliest Dog in the Universe, Beach Lane 2013
A Fabulous Fair Alphabet, Beach Lane 2010
A Birthday Cake Is No Ordinary Cake, Harcourt 2006
The Incredible Water Show, Harcourt 2004
Miss Alaineus, A Vocabulary Disaster, Harcourt 2000
Out of the Ocean, Harcourt 1998
On the Day You Were Born, A Photo Journal, Harcourt 2001
On the Day You Were Born, Harcourt 1991
Illustrated
The Animal That Drank Up Sound, by William Stafford, Harcourt, 1992
We Got Here Together, by Kim Stafford, Harcourt, 1994
In the Space of the Sky, by Richard Lewis, Harcourt, 2002
Highlights
Debra Frasier published On the Day You Were Born in 1991 and this story has now become an international classic. Lively music by Minnesota composer Matthew Smith accompanies the book. In a separate project, orchestras all over the USA have played the symphony-with-narration, written by Steve Heitzeg, another Minnesota composer. Miss Alaineus, A Vocabulary Disaster, published in 2000, has inspired coast-to-coast "Vocabulary Parades"—a school-wide activity that blends creative thinking with vocabulary strengthening. A Fabulous Fair Alphabet uses collaged photographs of state fair lettering to follow a day's visit to an outdoor fair. In 2010, to accompany this book, Debra and her team built The Alphabet Forest, now a large participatory area at the Minnesota State Fair where thousands of visitors meet authors, play alphabet games, and make book-inspired crafts. This is the only permanent literacy area at a state fair in the USA and Debra's directions for staging a school vocabulary carnival version draws on this unique family fair event. Spike, Ugliest Dog in the Universe, inspired the Talk-Like-a-Dog activity, a booklet writing project to download for elementary students. Free directions and support materials for Debra's "Book Event" activities can be found at debrafrasier.com.
Selected Awards
On the Day You Were Born, Parent's Choice Gold Award, Hungry Mind Review Book of Distinction, Notable Children's Trade Book in Language Arts, NSTA-CBC Outstanding Science Trade Book for Children, Notable Children's Trade Book in Social Studies, ABC Children's Bookseller's Choice, Reading Rainbow, Feature Selection
The Animal That Drank Up Sound, American Booksellers Assoc Pick of the Lists, Book of the Month Selection, American Institute for Graphic Arts, Best Illustrations of 1992
Out of the Ocean, Southeast Booksellers Assoc Children's Book Gold Award, Minnesota Book Award for Illustration, ABA's Pick of the Lists
Miss Alaineus, A Vocabulary Disaster, 2000, International Reading Association, Children's Choice Award, International Teacher's Choice Award, Oprah's Summer Reading List Selection
Loft McKnight Award in Children's Literature Award, 2010
Presentations
Debra and her husband moved to Asheville in 2015 where they built a house and studios in the mountains of western North Carolina. Debra returns to Minnesota frequently for work with the State Fair as well as school and library visits. Her website has won national awards for its curriculum support for teachers and libraries. Please visit www.debrafrasier.com for videos, downloadable materials, and information of school visit activities, fees, and schedules. You can reach her by hitting CONTACT on her website and she will be in touch. Student mail can be sent to: Debra Frasier, PO Box 6, Penland, NC 28765.
Fees
Please contact Debra