Contact Info: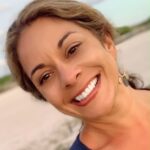 Lives in: Minnetonka, MN
Email: [email protected] 
Website: https://latchanakenney.wordpress.com
Phone: 612-840-8481
Author of: Children's Non-Fiction and YA Non-Fiction
Age Group: 6-18
Books:
Folding Tech: Using Origami and Nature to Revolutionize Technology, Twenty-First Century Books, 11/3/2020, https://www.kirkusreviews.com/book-reviews/karen-latchana-kenney/folding-tech/
Everything World War I, National Geographic Kids, Sept. 2014, Carnesi, Sabrina, and Shelley Glantz. 2015. "Everything World War I." Library Media Connection 33 (5): 46.
Older titles (also found here: https://latchanakenney.wordpress.com/books/)
Nature's Superheroes (5-book series)
Who Invented the Movie Camera?
Make and Upload Your Own Videos
States of Matter Investigations, Energy Investigations, Magnetism Investigations, Forces and Motion Investigations, and Sound and Light Waves Investigations
Mysterious UFOs and Aliens and Spine-Tingling Urban Legends
Mysteries of the Great Wall of China and Mysteries of the Egyptian Pyramids
Animal Architects (7-book series)
You Have A Pet What?!: Miniature Donkey, Pygmy Goat, Rat, and Sugar Glider
Amazing Body Systems (7-book series)
Exoplanets: Worlds Beyond Our Solar System
What's Beneath: Peeking Underground and Peeking Under Your Skin   
Mysteries of History: The Mystery of the Sphinx
Science in Action: Six-book series from Abdo
Stories of the Civil Rights Movement: Rosa Parks and the Montgomery Bus Boycott and James Meredith and the University of Mississippi
Skin Care & Makeup Tips & Tricks
What Makes Medical Technology Safer?
Canada: Countries of the World
What's Your Style?: Boho Fashion, Hipster Fashion, Preppy Fashion
Hidden Story: Drugs, Gangs and Crime, Homelessness
US Government and Civics: State Government, Civic Responsibilities, Government in Your City or Town
What Is a Parliamentary Government?
Super Social Studies through Infographics: World Geography, Economics, US History
Stephen Hawking: Extraordinary Theoretical Physicist
David Karp: The Mastermind behind Tumblr
Korematsu v. the United States
Strength Training for Teen Athletes
National Geographic: Big Cat Costumes
Our Animal World (6 books)
Shop Tech: The Science of Cars
Cool Parties (6 books)
Cool School Spirit (6 books)
Our Nation's Pride (6 books)
A Bug's World (6 books)
Girls Play to Win: Skiing & Snowboarding
Everyday Science (2 books)
Shockwave (2 books)
Cool Music (3 books)
Illegal Immigration. Essential Library
Fact & Fable: State Stories (4 books)
Cool Performances (6 books)
Super Simple Crafts (6 books)

Meet Your Community Workers (6 books)
Rib-Ticklers Spelling (3 books)
Awards:
2011 Editor's Choice for School Library Connection
YALSA Quick Pick for Reluctant Readers
Junior Library Guild
Highlights/Bio:
I love to write books about animals, and I look for them wherever I go—from leafcutter ants trailing through the Amazon rain forest in Guyana, where I was born, to puffins in cliff-side burrows on the Irish island of Skellig Michael. I especially enjoy creating books about nature, biodiversity, conservation, and groundbreaking scientific discoveries—but also write about civil rights, astronomy, historical moments, and many other topics.
*Available for Skype/Zoom presentations, fees are negotiable