Contact Information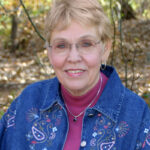 Website: http://www.lwjbooks.com/
Book Category: Children's Fiction
Books
Girl Talk: 52 Weekly Devotions. Zonderkidz a subsidiary of HarperCollins Christian Publishing; Reissue edition, 2016.
Viking Quest Series, Moody Publishers.
Raiders From the Sea. 2003.
Mystery of the Silver Coins. 2004.
The Invisible Friend. 2004.
Heart of Courage. 2005.
The Raider's Promise. 2006.
The Freedom Seekers Series, Bethany House. Now published by Moody Publishers.
Escape into the Night. 1995.
Race for Freedom. 1996.
Midnight Rescue. 1996.
The Swindler's Treasure. 1997.
Mysterious Signal. 1998.
The Fiddler's Secret. 1998.
The Adventures of the Northwoods Series, Bethany House. Now published by Mott Media.
The Disappearing Stanger. 1990.
The Hidden Message. 1990.
The Creeping Shadows. 1990.
The Vanishing Footprints. 1991.
Trouble at Wind River. 1991.
The Mysterious Hideaway. 1992.
Grandpa's Stolen Treasure. 1992.
The Runaway Clown. 1993.
Mystery of the Missing Map. 1994.
Disaster on Windy Hill. 1994.
Highlights
Lois Walfrid Johnson is the author of more than 30 books for adults and children. Her work has been published in English-speaking countries throughout the world, translated into 12 languages, and brailled for the blind. A former public school teacher and instructor for Writer's Digest School, Lois is a nationally recognized motivational speaker and teaches writing to children and adults in a variety of situations. She has received reader mail from 46 states and 22 countries. "Each novel stands alone, but each series is best read in sequence to see the growth in characters and friendships. All of my books reflect family values, and my carefully researched historical backgrounds give children rich insights into other ways of life. To appeal to both boys and girls, as well as average, gifted, and reluctant readers, I include a mystery in each book and cliff-hangers at the end of every chapter."
Awards
Escape into the Night. C.S. Lewis Honor Book, Silver Medal, 1996. Award of Merit for Distinguished Service to History, State Historical Society of Wisconsin, given for Adventures of the Northwoods Series, 1991.
Award of Merit from Excellence in Media for Grandpa's Stolen Treasure, 1993.
Five Silver Angel Awards form Excellence in Media for novels in Adventures of Northwoods series and Riverboat series.
Gold Medallion Book Award, given to four books in Let's-Talk-About-It Stories of Kids Series.
C.S. Lewis Medal for Best Series Published in 1988, given for four books in Let's-Talk-About-It Stories for Kids Series, 1989.