Contact Information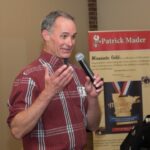 E-mail: [email protected]
Website: http://www.patrickmader.com
Book Category: Adult nonfiction (Olympics), Children's Picture Books
Age Group: Any
Books
More Minnesota Gold: Conversations with Northland Athletes Competing on the World Stage. Wise Ink Creative Publishing, (December) 2019.
Minnesota Gold: Conversations with Northland Athletes Competing on the World Stage. Wise Ink Creative Publishing, 2015.
Visiting the Visitors. Beaver's Pond Press, 2012.
Big Brother Has Wheels. Beaver's Pond Press, 2009.
Oma Finds a Miracle, illustrated by Andrew Holmquist, Beaver's Pond Press, May 2007.
Opa & Oma Together, illustrated by Andrew Holmquist, Beaver's Pond Press, 2005. (Contributor)
Highlights
I am a recently retired elementary school teacher at Waterville-Elysian-Morristown Public Schools in south-central Minnesota which now permits great flexibility for presentations.
As a result of wide range of teaching experiences from elementary-aged students to adults, I am comfortable with any age group. I grew up on a small diverse farm with six siblings near the town of St. Bonifacius, Minnesota. My books reflect positive values and messages with a rural setting and are based on real characters, animals, places, and events.
The author of the only books on the market about Minnesota Olympians, Patrick Mader wrote Minnesota Gold and More Minnesota Gold, 400-page nonfiction books which he meticulously researched the lives, challenges, and achievements of more than 100 athletes he interviewed in-person.  Diversity and gender and geographical balance were a priority for the author.
I am married to Karen, a nurse and extraordinary school and civic volunteer, and have two adult children who have unwittingly inspired my writing.
Awards
Teacher of the Year, 1991 – Morristown Public Schools
Writer's Digest:  Honorable Mention Award for Children's Picture Books, Opa & Oma Together
Independent Publishers Award:  Big Brother Has Wheels, bronze medal
Moonbeam Award:   Holiday book category, Visiting the Visitors, silver medal
Midwest Independent Publishing Association:  Finalist, Sports and recreation, Minnesota Gold
Presentations
Patrick has interviewed more than 100 living Minnesota Olympians and found them to be articulate, intelligent, and approachable citizens who "give back" to their sport, community, and school.  His presentations share their life stories, athletic achievements, and perseverance in overcoming obstacles.  Power Point slide shows with video clips highlight his multimedia presentation along with anecdotes from his research and in-person interviews.  Discover Minnesota Gold!
My presentations have been proclaimed unique and captivating by public librarians and school teachers (please see the program testimonials page on my website). I have enlarged each illustration to 24 x 30 inches so viewing is possible in large groups. With my teaching background, I am expressive and able to connect with children and work with staff members easily. PowerPoint programs that show pictures of the real people and setting that the stories are based on are compared in a slide format to the illustrations in the book.
An added feature is the rural and agricultural education piece. An authentic milking machine, an explanation of the milking process, and samples of cattle feed are available to be shown.
Another educational component of a program that is available is the writing and publishing process. Actual samples of the cover, printed proofs, and binding are shown and explained.
Programs can be as brief as 20 minutes for preschool children to a more standard time of 30-40 minutes for intermediate-aged students to over an hour for adults who want to learn about writing and publishing a book.
I encourage students to read, write, draw, and try to fulfill their dreams. I never thought that I would write a book and get it published. If I can, I believe students and other adults can too.
Fees
Generally $95 – 195 plus mileage, depending upon the length of the program. Libraries collaborating with each other or other organizations receive a significant discount for multiple presentations.