Contact Information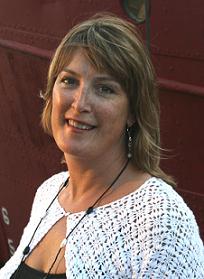 Phone: 651-464-5688
Fax: 651-846-4401
E-mail: tracy@tracymaurerwriter.com
Website: http://www.tracymaurerwriter.com
Book Category: Childrens Fiction,Nonfiction,Picture Books
Age Group: 6 and up
Books
Noah Webster's Fighting Words. Millbrook Press, 2017.
Storm Codes (historical fiction picture book). Windward Publishing Company, 2007.
Full Throttle (eight-book series). Titles: Bugatti, Ford GT, MINI Cooper, PT Cruiser, Thunderbird, Maserati, Tesla Roadster, and Mazda RX-8. Rourke Publishing, 2008.
Full Throttle (eight-book series). Titles: Lamborghini, Viper, Land Rover, Jeep, Lotus, Mustang, Hummer, and VW Beetle. Rourke Publishing, 2007.
John Deere, That's Who! Co-authored with Rod Beemer. MBI Publishing Company, 2006.
Jump & Shout! (six-book series). Titles: The Cheerleaders, Cheerleading Skills, School Cheerleading, Competitive Cheerleading, Cheerleading Gear, and Cheerleading Practice. Rourke Publishing, 2005.
Roaring Rides (six-book series). Titles: Muscle Cars, Desert Racers, Limousines, Monster Trucks, Lowriders, and Stock Cars. Rourke Publishing, 2004.
RadSports Guides Set II (six-book series). Titles: Guide to ATV Riding, Guide to Snocross, Guide to Mountain Biking, Guide to Surfing, Guide to Wakeboarding, and Guide to Watercross. Rourke Publishing, 2003.
RadSports Guides Set I (six-book series). Titles: Guide to Snowboarding, Guide to Snow Skiing, Guide to Skateboarding, Guide to BMX Freestyle, Guide to In-Line Skating, and Guide to Freestyle Moto-X. Rourke Publishing, 2001.
A to Z of Seasons (four-book series). Titles: A to Z of Spring, A to Z of Summer, A to Z of Autumn, and A to Z of Winter. Rourke Publishing, 2003.
A to Z (four-book series). Titles: A to Z of Ps and Qs, A to Z of All of Me, A to Z of Friends and Family, and A to Z of Helping Hands. Rourke Book Co., 2001.
Green Thumb Guides (six-book series). Titles: Growing Herbs, Growing Houseplants, Growing Vegetables, Growing Flowers, Growing Trees, and Growing Fruit. Rourke Book Co., 2001.
Bodyworks (six-book series). Titles: Digestion, The Brain, The Senses, The Heart and Lungs, The Bones, and The Skin. Rourke Corporation, 1999.
Rourke Guide to State Symbols (ongoing publisher's series). Titles: State Songs, State Capitals, and License Plates. Rourke Press, 1999.
Let's Dance (four-book series). Titles: World Dances, Tap Dancing, Rhythmic Gymnastics, and Ballet. Rourke Press, 1997.
Building for a Century. Duluth Builders' Exchange, 2002.
Macon Celebrates the Millennium. Community Communications, Montgomery, AL, 2001.
Macon: The Center of Georgia. Community Communications, Montgomery, AL, 1995.
Highlights
Tracy Nelson Maurer has written more than 60 titles for children and adults since she began her writing career in 1987. Many of her books appeal to reluctant readers, and she has earned positive reviews of her high-interest/low-level nonfiction work for schools and libraries. Her most recent title for children, Storm Codes, is a historical fiction picture book for ages 6 and up. Set in the 1960s, the story focuses on a young girl waiting for her father to return to the Duluth harbor in a storm. The beautifully illustrated book, painted by Minnesota illustrator Christina Rodriguez, also introduces facts about taconite, Great Lakes shipping, and nautical terms still used today. (A reader's guide is available online at www.stormcodes.com.) In addition to writing for children, Tracy also writes business communication materials and Web sites. She graduated from the University of Minnesota with a degree in journalism and is currently pursuing an MFA in Writing for Children and Young Adults at Hamline University in St. Paul. Tracy grew up near the Duluth-Superior harbor and now lives with her husband and two children in Forest Lake.
Presentations
Audience members, whether they're children or adults, participate in my school and community programs in a dialogue-based, interactive format. I use some props and tactile examples appropriate for the audience age level. Normally, I focus on describing core elements in the writing process: imagination, research, word choice, sentence structure, grammar, editing, and proofing. Please visit www.TracyMaurerWriter.com (click: My Visits) for samples of presentation formats. Because I've written for all ages, I'm able to adapt my presentation to specific grade levels and audience interest. I also try to integrate classroom projects or current discussion areas so that my presentation is immediately relevant and applicable. I like to tell "the story behind the story" and provide examples during the presentation that complement your classroom curriculum. Every session concludes with an opportunity to ask questions. I adjust the fee according to each program format and setting.
Fees
Fees are adjusted according to the format of the engagement; travel expenses extra.